Google I/O 2019: 5 Highlights Every eCommerce Business Owner Needs to Know
Reading Time:
4
minutes
When it comes to Google I/O 2019, almost everyone from developers, IT development companies to business owners wait for the announcements Google has. As it impacts their marketing campaigns, method of working, their results, and more.
Check out the search trends when Google I/O 2019 was happening from 7th May 2019 to 9th May 2019:
When it comes to eCommerce business, their listing on Google search impacts their traffic and indirectly online sales. So, the important thing, did the event had anything for eCommerce businesses? Yes.
The events such as Google I/O come up with product updates, new technologies, and so much more that has a direct influence on the eCommerce market trends.
And, hence, you need to know what Google I/O 2019 had for eCommerce businesses.
Let's begin.
Google I/O 2019 Announcements to Influence eCommerce Market Trends
1. Augmented Reality to Google Search
The keynote of Google I/O 2019 was full of exciting announcements. One of them is bringing the 3D view in Google Search.
The eCommerce businesses who have a strong presence on the search engines are going to get improved conversions.
How?
For example, if you go and search, "Nike shoes" and within the search results, Google Lens will provide a button named, "View in 3D". Click on the button, and you will be able to get a 3D view of the top ranking Nike shoes.
On top of that, Google Lens allows you to view your searched Nike shoes at your own space. You can match those shoes with your clothes and see if they are the perfect match or not.
Just the way they brought great white shark in their own space: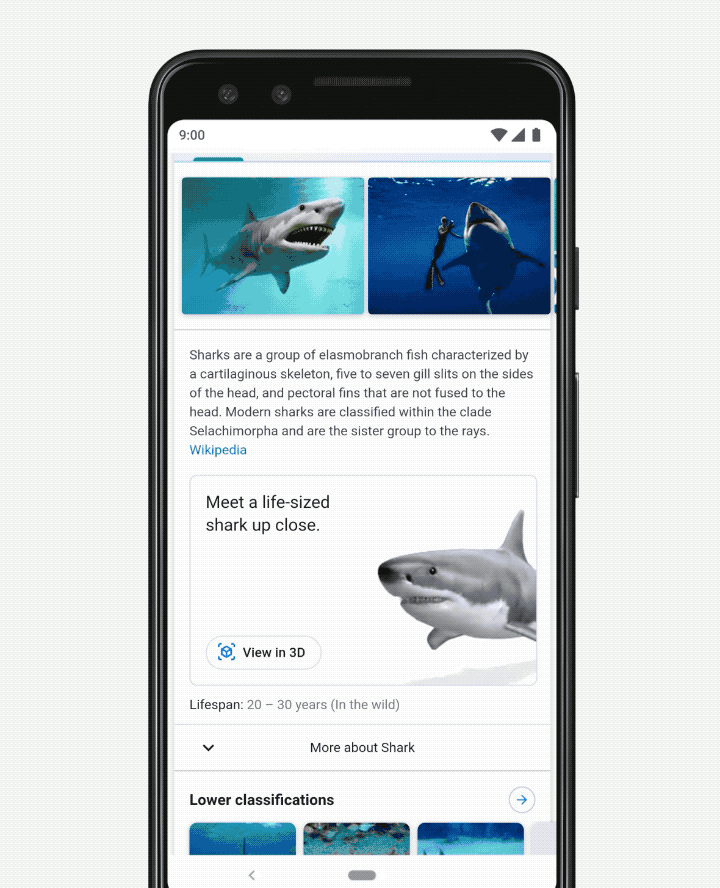 Here, Google Lens is integrated with the camera.
How to get your eCommerce product for 3D view in Search?
You would need to ask your developers or eCommerce development companies to get the required code in your eCommerce website. And, you're done.
Well, this update will be here by the end of May 2019. So, you would have to wait.
So, Google is working hard to bring conversions for your eCommerce store by bringing 3D Augmented Reality (AR) objects to search.
I am hoping AR will soon be in Google Shopping as well.
2. Effective Use of Google Lens
Another announcement at Google I/O 2019 for eCommerce businesses includes the various features of Google Lens.
Order something that's popular
Using Google Lens, your online customers can order products that are quite popular at your physical store.
For example, if your customers are looking to order food online. While browsing the menu, Google Lens help them find out what dishes are well-known at your restaurant and hence, the conversions become faster.
For this, you need to have a substantial online presence.
Learn how to cook (best for the online recipe and meal kit delivery store)
Google showcased a case study of visual learning on how to cook from Bon Appetit magazine.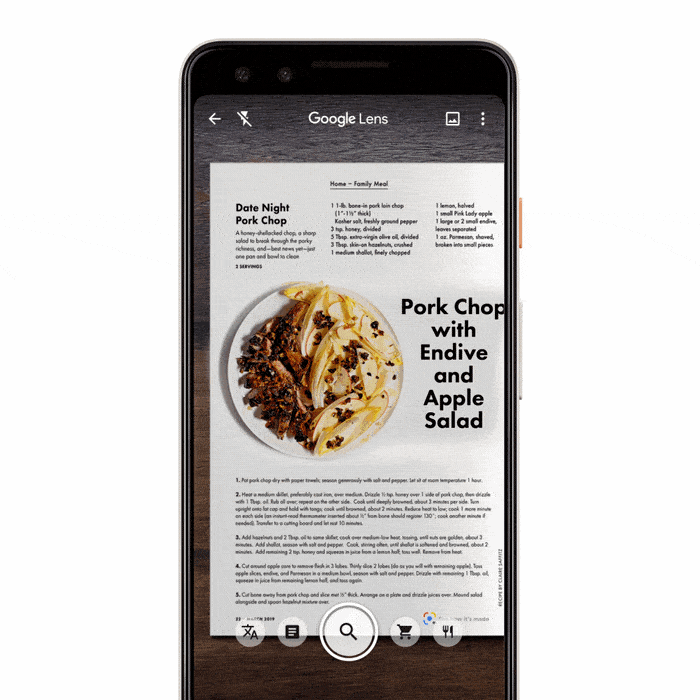 If you're selling recipes and meal kits online, this can be excellent news for your eCommerce business.
3. Voice-based web and mobile chats
Google I/O 2018 announced Duplex, an AI-based voice assistant that make calls on your behalf. This year, in 2019, Google launched Duplex on the web.
The voice-based web and mobile chatbots use Artificial Intelligence (AI), and they will be helping people to book cabs, movies, restaurants, and hair appointments.
So, you would need to make your eCommerce platform flexible enough to handle bookings made via voice-based assistants.
4. Improve your mCommerce experience
One such highlight from Google I/O 2019 is that Google Play Console now offers metrics that would help you make mobile apps better.
Ask your eCommerce marketing heads or managers to keep a close eye on the metrics and insights to find out where your eCommerce mobile app needs improvements.
Work on the suggestions made by Google Play Console and increase the rate of repeat buyers.
5. Suggestions for Mobile App Responses
If you are struggling with responding to the user queries for your mobile app, Google has announced a feature at Google I/O 2019. This feature offers suggestions to respond to a particular query or feedback on the Play Store.
You would need to click on them, and the responses will be sent to the user queries. An easy and quick fix to your challenge of keeping up with your user engagement, right!
6. Live Captions for all Videos
Another update from Google I/O 2019 is that Android will soon provide Live captions on all videos- offline/online.
So, if you worry about adding subtitles to your videos, you can now relax. Rather focus on creating more videos.
Utilize these Google I/O 2019 updates for your eCommerce success
For an eCommerce success, it is vital to keep up with the latest news that affects the eCommerce industry and its growth.
So, use these highlights by Google I/O 2019 and make an impact on your eCommerce success.