8 Trends that will shape India's eCommerce Market in 2020
Reading Time:
8
minutes
What is the future of eCommerce in India 2020?
Many people ask me what will be the next move in the digital commerce space? What will be the eCommerce trend in 2020 for India? This is one of the most talked-about topics.
I believe that in the future, the Indian eCommerce market will observe a hockey-stick growth, especially in 2021. That's the reason why it becomes imperative to discuss the eCommerce market trends for 2021.
Before we do that, let's spread some light on the future of eCommerce market growth in India-
India's eCommerce market is expected to grow at a CAGR of 30% and will reach $200 million by the year 2026, as per the report by investment bank Morgan Stanley.
Also, as per Statista, India had around 224 million digital buyers in 2018, which will rise to 329 million by 2020, which is a highly rapid rise rate. Based on that we can expect it to reach somewhere between 273 million to 280 million buyers in 2019.
Check out the graph of eCommerce users in India-
Though there is mounting in sales numbers, it is turning tough to increase the customer base by just following the old business practices especially after pandemic.
Here are a few statistics that talks about the growth of eCommerce industry in India 2020-
The revenue of the eCommerce market in India is expected to reach USD 45,894 million in 2020
The largest segment of Indian eCommerce market for 2020 will be Electronics & Media with an expected market value of USD 14,745 million in 2020
Ecommerce user penetration will be 39.7% in 2020 and is expected to hit 61.8% by 2024.
Today's customers don't wish to see what everyone else is exploring in the eCommerce marketplaces. Rather, they wish for something which appeals to them or that has been tailored or personalized for them only.
So, with the eCommerce industry turning increasingly competitive in India, here are the eight current eCommerce market trends that are likely to thrive throughout 2020 and even persist into 2021.
Latest eCommerce Market Trends for 2021 & beyond
1. Content-driven Commerce will Grow
Content-driven commerce is not a new entry in the list of current eCommerce trends 2020. But, it has become the top priority among marketers to reach buyers at various stages of the customers' journey.
According to a survey conducted by World Media Group and published by eMarketer, around 80% of marketing professionals say they will increase their use of content-driven campaigns to drive more conversions.
What are the benefits eCommerce brands expect from content-driven campaigns?
Improves search engine visibility
Brings quality store traffic
Increases repeat business through brand stories
Demonstrates your domain expertise
Strengthens customer loyalty
Engages your potential customers
Persuades your buyers to make purchasing decisions
Reduces the bounce rate of your online store
Supports your social media and influencer marketing efforts
Helps you canvas your brand story periodically
Gives you a chance to go viral
Did you check out a recent content-driven commerce campaign by Apple on YouTube for Indian users? Here it is-
Almost well-known eCommerce brands have started using content-driven campaigns such as Nike, Swarovski, Tiffany and Co., and more.
It's time to use this eCommerce market trend of 2021 in your favor.
2. Customer Journey will get More Personalized
Personalization of buyers' journey shifts to the 2nd position among the top online shopping trends in India 2021.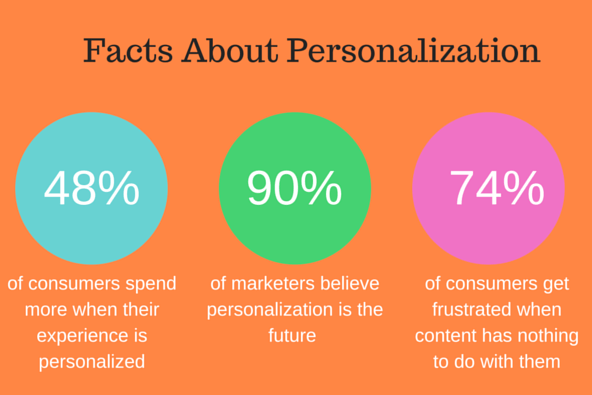 Image Credits: OptinMonster
The eCommerce Strategists need to monitor their customers' shopping behaviors, set up the products that best fit the present-day behavioral trends in the eCommerce industry and present in an innovative way at the right time. Sellers can utilize buyers' demographics like gender, age, pay scale and so on to customize digital experiences.
The outcome will be much precise and targeted marketing campaigns will succeed if used smartly to further increase online sales.
In the next 18-24 months, the informed shoppers would pick only those brands that will showcase customer-centricity across all aspects of their business, right from personalization to customer-aware marketing offers to shopper-friendly shipping and better return policies.
Online business experts say that the near future of retail will undoubtedly be more personalized. The brands will use Business Intelligence and Machine Learning to capture buyers' inclinations and show products that persuade them for impulse buying.
3. Swift Product Delivery will Turn Requisite
Another top online shopping trend in India for 2021 is the same day delivery.
The time amid placing the order to receiving the delivery will trim down further and, in most cases, same-day delivery will turn requisite to survive in the specific categories and regions. Most of the customers hate the extra waiting time, and quicker delivery options are the one thing that tops their wishlist while shopping online.
Although this is a hard-hitting expectation to handle for the retailers. Its execution will come with an assurance for more traffic at your shopping portal than before. Having this as a set expectation, company in delivery services can see steep demand in their services and players with good delivery networks are going to be next million-dollar companies in India.
We ended our 2018 by sharing the top four global future delivery trends for the eCommerce industry in 2019. And, here are they:
Four Future Delivery #Trends We are Likely to See in #Ecommerce:

1. Same day delivery
2. Drone delivery systems
3. Self-driven robots
4. Pickup, pack and ship companies pic.twitter.com/wkocjSr6Fz

— eComKeeda (@e_keeda) December 6, 2018

All of these four ways will help you deliver your products faster and that's how you will even boost your conversions. But it seems difficult to have some of them in India looking at the infrastructure available.
To make sure the handiness and well being of shopper's money, swift turnarounds, and trouble-free returns, as well as flexible refund policies, is highly required for you to guarantee it to your customers.
4. Possibility to have voice-based search and online shopping
No doubts that voice-based shopping is in the current eCommerce market trend in India 2020.
Google is consistently making alterations to its search engine algorithms to make sure that more precise questions are answered with the spot-on results. This is not an inconsequential update. This is an amendment which is a sign of how the next generation of internet users will interact with the web.
Today, kids do not type any longer, they straightforwardly ask Siri or Cortana or Google or Alexa and get the looked-for results. This fundamentally means that consumers are switching towards voice-based content consumption.
Google search already takes voice commands which consumers use to find products and services around. We can presume that Google Shopping bringing voice-based search as functionality, which helps a user to search product with voice and get the product feeds from all websites in one place. The same concept we shall expect to be inherited by Indian giants by providing voice search on their website/mobile apps.
Myntra.com is a leading fashion commerce site that has already implemented voice-based search in their app and which is providing ease to the customer with less time.
That's the reason why we consider voice-based online shopping a conversion hack for eCommerce businesses that instantly doubles the conversions.
5. Transition to an Integrated Omnichannel Presence
Having an Omnichannel eCommerce business model has become one of the top eCommerce Customer Experience Trends for 2019 which will continue even in 2020,
#Ecommerce Customer Experience Trends 2019:

1. Augmented Reality (AR) & Virtual Reality (VR) for better product understanding
2. Machine Learning (ML) & Artificial Intelligence (#AI) for personalization
3. Omnichannel
4. Improving offline experiences
5. Speeding up the delivery pic.twitter.com/X4pVKuu3jA

— eComKeeda (@e_keeda) December 11, 2018
The online and offline disparity will blur soon. Customers will stop setting apart between online and offline mode of buying, and they will turn just channels. It will be an era of O2O (online to offline/offline to online). Users will be given a choice to see offline and order online or see online and pick up offline.
Brands will eventually make the shift to an integrated Omnichannel presence, or new brands will build a diverse cost structure even for an offline existence.
Raymonds, Lenskart, Dominos, etc. are examples that have omnichannel experiences available in India already shaping the future of eCommerce in India 2020.
6. Niche players will rise and get own space, while big ones will continue to dominate
The rise of niche brands is one of the unstoppable latest eCommerce trends until the year 2021.
Flipkart and Amazon will carry on to be the most accepted eCommerce brands in India, even though specialists believe that distraction is bound to happen with other pioneering players such as Paytm having a cutting edge. Flipkart is having and will continue with an edge in towns, tier-II, and tier-III cities. Amazon will make the cut in metros.
Niche players such as Nykaa in beauty care, BigBasket in grocery, Lenskart in eyewear, Pepperfry in furniture retail, Clovia in lingerie and Netmeds in selling medicines online will rise and get their own space in their specific markets.
To cement their brand names, all these players will invest heavily in innovative marketing strategies and campaigns.
The enmity between Amazon and Flipkart will get severe each day. However, their growth will increase at an incredible pace, and they will alter the ways in which self-governing merchants have to sell and operate online. But having said that, there will always be a space for niche brands.
7. B2B will adopt the digital transformation
For B2B eCommerce trends 2021, digital transformation is the first target for the B2B business owners.
With the smartphone penetration in recent times, we are now observing the eCommerce customers in India moving quickly towards digital payments more than cash on delivery business models.
Conversely, the eCommerce business which once commenced as a consumer buying behavior will now make sturdy inroads into B2B marketplaces.
As per Forrester Research, B2B business owners can save up to 90% on sales, support and operating costs by introducing and handling B2B eCommerce sites.
And, for B2B eCommerce success, it will become mandatory to have these conversion-oriented platform features.
B2C like digital experience in B2B/wholesale selling will increase their market share, business growth and decrease their cost. It will bring speed, predictability, and profitability to the B2B segment.
Moving further, manufacturers and traders will utilize business intelligence (BI) and also use other advanced technologies, so they know what the buyers need prior to they ask.
They will even respond by instantly fulfilling orders, and the complete order processing will turn automated.
8. Subscription eCommerce Would Have Hockey Stick Growth
In India, the subscription business model has been trending from the early 2016s. eCommerce businesses looking for growth can think about a strategy to include a subscription model in 2019.
It is good to follow the footsteps of leaders and innovate further,
Amazon launched Amazon Prime in 2016
Flipkart launched Flipkart Plus in 2018
Swiggy launched Swiggy Super in 2018
Zomato launched Zomato Gold in 2018
Myntra launched Myntra Insider in 2018
All service commerce brands like Netflix, Dropbox, Shopify, etc are minting hockey stick growth in revenues due to Subscription models
This is why we published the reasons why the leaders are aiming to Subscription. The most common ones are,
Better customer experience
Outperform competition
Improved customer loyalty
Addiction towards your brand
So are you the next one?
Follow these latest eCommerce trends and make the future of eCommerce in India bright by 2021
In the coming time, both customer and market demands will further continue to evolve. The users will be capable of uniting the real and virtual worlds at a time.
With AR and VR attaining grounds, they will be able to even explore digitally built shops globally sitting at home and be able to purchase products with hand gestures and as discussed above using the voice controls. Finally, the technology will commence thinking for you cutting out on all of the human contacts required today.
If you want guidance about your brand's future strategy, you can write to us on [email protected].